Backyard burns are done for the season, but for now, campfires are still allowed. Here are some guidelines on how to enjoy an evening beach fire without creating a hazard to yourself or others: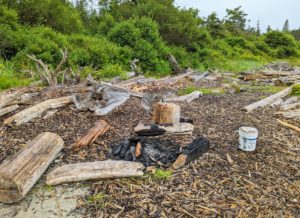 Use one of the supplied fire rings if available. The rings are a good indicator of a safe campfire's size and keep the fires in the same locations over the summer. This helps prevent the entire beach from becoming a charred mess.
Extinguish your fire with water. Water is the only way to ensure the fire is out. Covering the fire with sand traps the heat, fills the rings, and creates a burnt feet hazard.
Place your fire away from combustible materials. Building a fire against the logs, on the forest floor, or in the bark mulch zone increases the likelihood that it will escape.
Do not throw garbage into the fire. It may look as though the fire will consume everything it touches, but those who patrol the beach in the mornings continually pull cans, bottles, and half-burned plastic things out of the fire pits. Please take that stuff back off of the beach with you.