The Superior Tanker Shuttle Service (STSS) accreditation is an endorsement from the Fire Underwriters Survey that a fire department can deliver—with trucks—the amount of water equivalent to a fire hydrant to every house within 8 km of the fire hall.  With this accreditation comes an improvement in the home owner's fire insurance rating to "3BS".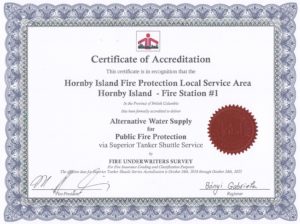 After 10 years of planning and practice we have achieved this accreditation by showing we are able to pump 200 imperial gallons of water per minute for 2 hours. For HIFR this involved using three portable tanks, two water tanker trucks, a pumper truck, 10 personnel, and hundreds of hours of training.
In 2015 we told the community that if they built us a new fire hall, we would save them money on their fire insurance by getting the STSS accreditation. Within a year of moving into the new fire hall we successfully challenged the accreditation test and fulfilled our side of the bargain. This is a monumental achievement in the history of HIFR and we are all incredibly proud of what we have accomplished.
We are working on an information package for you to present to your insurance company to realize some savings on your premiums. In the meantime, at the bottom of this post are links to letters from the Fire Underwriters Survey that may help inform your Insurance broker.
Please feel free to call Fire Chief Doug Chinnery at the fire hall at (250)335-2611 if you have any questions.